Rockin' & Roastin' organic coffee line lands in gift bags at Music's Biggest Night®
BOSTON, MA (January 26, 2016) – Rockin' & Roastin', the 100% organic certified coffee line founded by legendary Aerosmith drummer Joey Kramer, again will make an appearance in the 58th Annual GRAMMY Awards® Presenters and Performers' gift bags. Available in three flavors, a 12-ounce bag of the brew will land in the coveted swag bags that will be taken home by the likes of two-time GRAMMY® winner Kendrick Lamar, GRAMMY winners Little Big Town and The Weeknd as well as 10-time GRAMMY winner Adele. The 58th Annual GRAMMY Awards will broadcast live on the CBS network on February 15, 2016, from the STAPLES Center in Los Angeles, CA.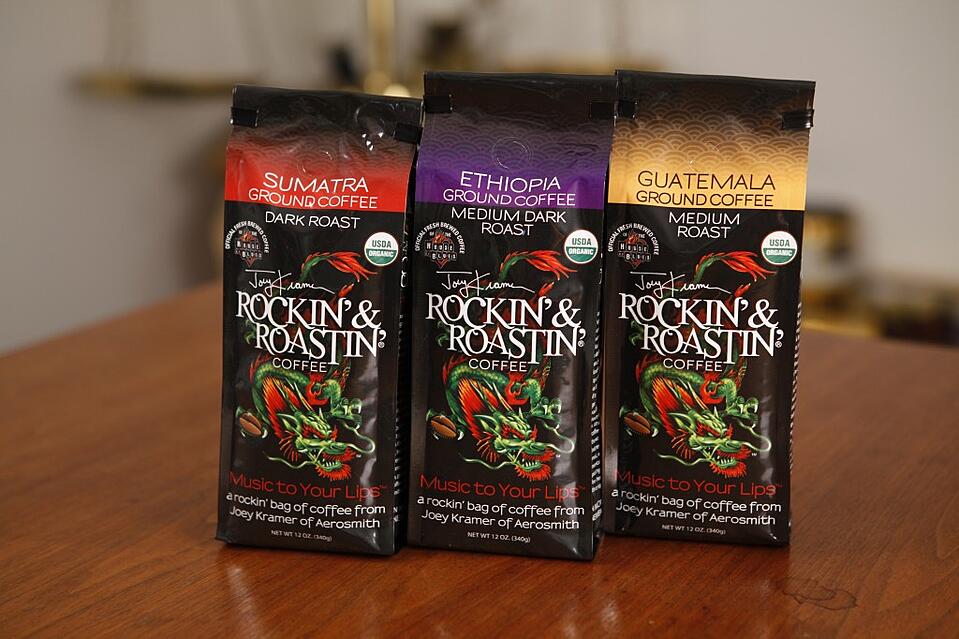 "Aerosmith has been fortunate enough to snag four GRAMMYs and receive 14 'nods' over the years, so I'm amped to be able to contribute to this incredible evening again this year," said Joey Kramer, founder and chairman of Rockin' & Roastin'. "Hopefully my Rockin' & Roastin' coffee will keep this year's talent fueled all night!"
Kramer's Rockin' & Roastin' custom-roasted coffee brews come in a trio of flavors, representing Kramer's favorite coffee-producing regions: a medium roast from Guatemala; a medium-dark roast from Ethiopia; and, a dark roast hailing from Sumatra. The brews are packaged in whole bean, ground and single-serve versions to satisfy any java enthusiast.
Rockin' & Roastin' is available online and in over 2,000 retail establishments throughout the country and it serves as the "official hot brewed coffee" at House of Blues locations nationwide. Kramer recently opened "Rockin' & Roastin' Café & Restaurant – At the Mountain" at Sunday River (Newry, ME) and plans to open "Joey Kramer's Rockin' & Roastin' Café" in North Attleborough, MA, this spring.
For more information, please visit www.rockinandroastin.com. Follow Rockin' & Roastin' on Twitter at @RockinRoastin and Facebook at /RockinRoastin.