Durham Marketplace becomes first retailer nationwide to carry Aerosmith drummer's new single-serve versions of his coffee line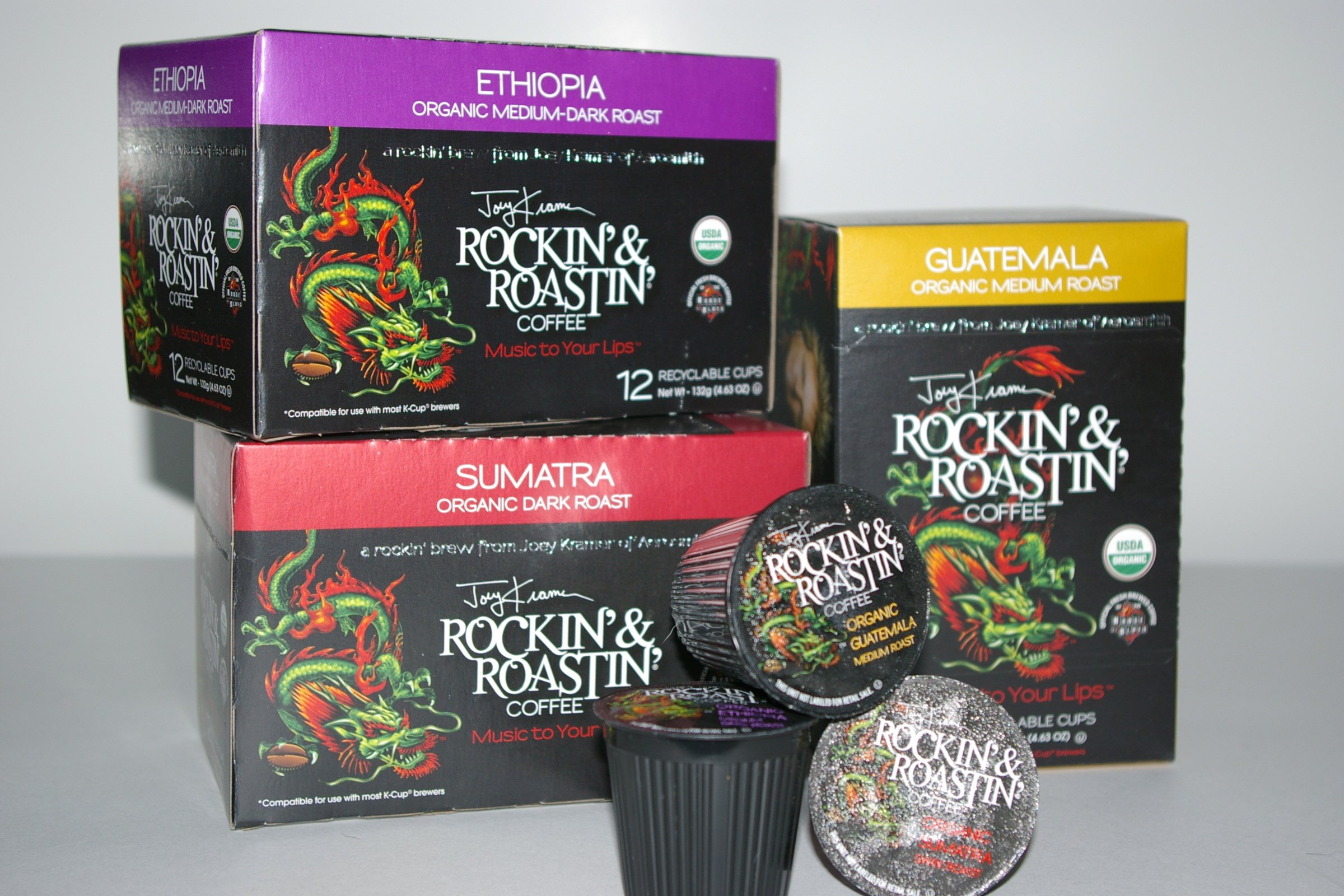 BOSTON, MA (September 16, 2014) – Aerosmith drummer, Joey Kramer, announces today that his 100% USDA Organic Certified coffee line, Rockin' & Roastin', now is available in single-serve cups and the first retail outlet nationwide to stock them will be the Durham Marketplace (Durham, NH). After spending the past year developing and perfecting the single-serve versions that are compatible with brewing in Keurig machines, Kramer is proud to debut his latest product at Durham Marketplace which he is confident addresses a coffee issue many have experienced.
"The problem with most single-serve cups is that they have a tendency to go stale quickly," said Joey Kramer, Founder & CEO of Rockin' & Roastin'. "My main goal was to create a cup with an improved design that would ensure people would be tasting the same freshness they have come to expect with Rockin' & Roastin'. Durham Marketplace was one of my initial retail partners when I brought Rockin' & Roastin' to the grocer market and their support over the past year has been incredible."
Now available for purchase on the shelves of Durham Marketplace, Kramer's single-serve custom-roasted coffee brews come in a trio of organic flavors that represent Kramer's favorite coffee-producing regions: a medium roast from Guatemala; a medium-dark roast from Ethiopia; and, a dark roast hailing from Sumatra. The single-serve cups are also available for purchase on the Rockin' & Roastin' website.
"Joey's Rockin' & Roastin' coffee line has been immensely popular in our store and we are proud to be the first retailer to carry the new single-serve cups," said Chuck Cressy, owner of Durham Marketplace. "Packing the quality of Rockin' & Roastin' into the convenience of a single-serve model is sure to be a hit amongst our valued customers."
Rockin' & Roastin's single-serve cups now are available at Durham Marketplace and retail for $7.99 per 12-cup box. Durham Marketplace is located at 7 Mill Road in Durham, NH. For more information on Durham Marketplace, please call (603) 868-2500 or visit: www.durhammarketplace.com.