Aerosmith's Joey Kramer introduces new single-serve versions of his 100% USDA Organic Certified coffee line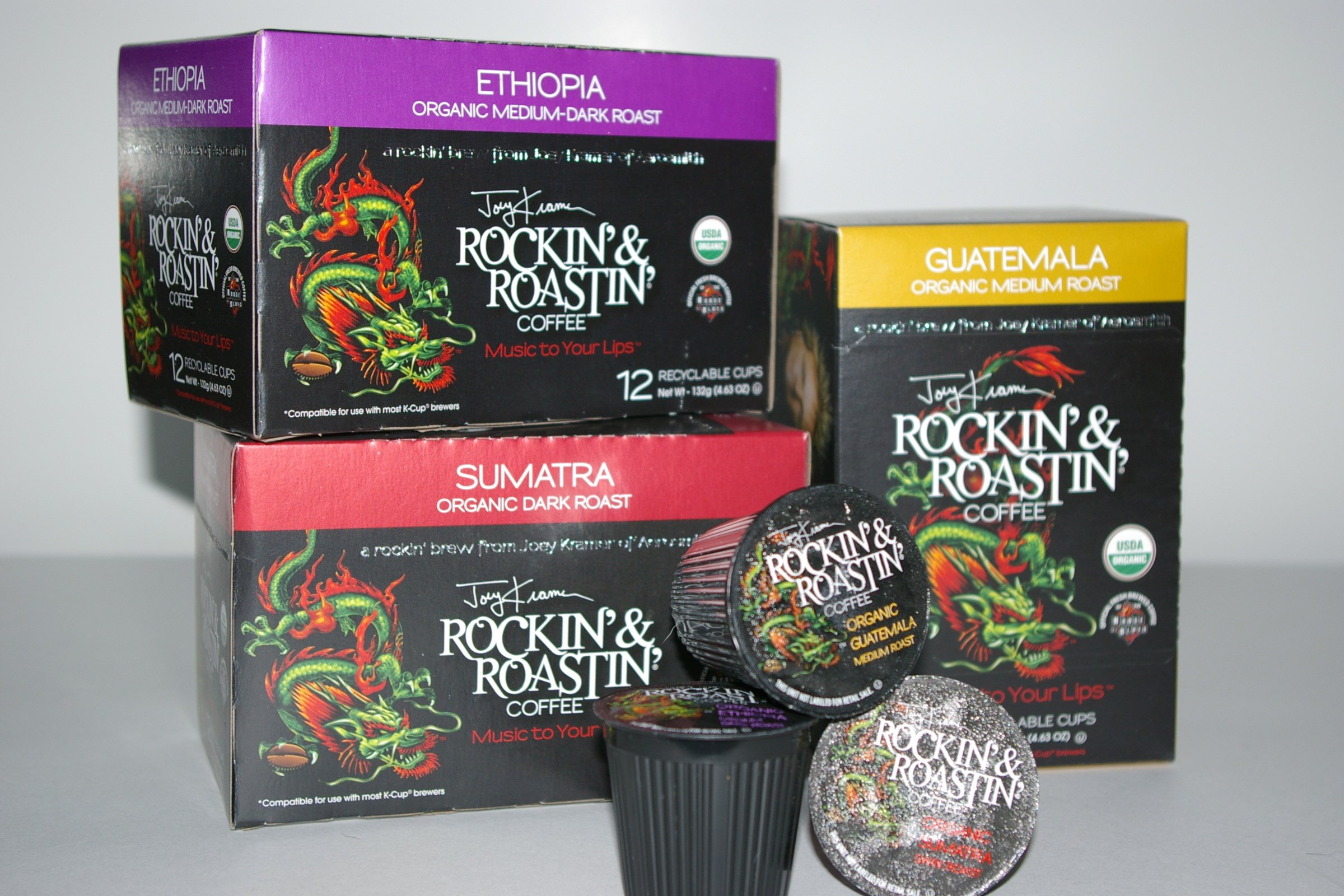 BOSTON, MA (September 12, 2014) – Aerosmith drummer, Joey Kramer, announces today that his 100% USDA Organic Certified coffee line, Rockin' & Roastin', now is available in single-serve cups compatible with brewing in Keurig machines. After spending the past year developing and perfecting the single-serve versions with his roasting and packaging partners, Kramer is eager to debut his latest product which he is confident addresses a coffee issue many have experienced.
"The problem with most single-serve cups is that they have a tendency to go stale quickly," said Joey Kramer, Founder & CEO of Rockin' & Roastin'. "My main goal was to create a cup with an improved design. I knew this would ensure that people would be tasting the same fresh and delicious flavors they have come to expect with my organic Rockin' & Roastin' products."
Now available for purchase on the Rockin' & Roastin' website and soon in retailers throughout the country, Kramer's single-serve custom-roasted coffee brews come in a trio of organic flavors that represent Kramer's favorite coffee-producing regions: a medium roast from Guatemala; a medium-dark roast from Ethiopia; and, a dark roast hailing from Sumatra. The single-serve versions utilize recyclable cups and can be purchased online for $8.99 per 12-cup box of any varietal, or for $7.99 per 12-cup box when one purchases four or more boxes, plus shipping and handling. For a limited time, Rockin' & Roastin' will provide complimentary shipping for orders of eight or more 12-cup boxes at the price of $7.99 each.
"My career has had me 'on the go' for decades and I really wanted to expand my coffee business to provide a convenient option without sacrificing the freshness or quality," added Kramer. "There is a proven need for single-serve cups and I'm amped to bringing my take on it to the java market."
For online purchases, please visit: www.rockinandroastin.com/shop.