For fans of my Rockin' & Roastin' gear, I wanted to give you a sneak-peek of a prototype I am working on for a new "summer-style" shirt. (Think Tommy Bahama…if he were to rock dragons).
This custom shirt will be available for purchase on the Rockin' & Roastin' "Rockin' Products" page soon and it sports my signature dragon and java logo on the back. There's a cool 60,000 stitchings involved to properly represent Rockin' & Roastin's devotion to quality! Rockin' royalty at its finest.
Here's a shot of my friends, Mame and Allen Connors, from The Bethel Inn Resort as they ride the chairlift to ski at Sunday River this past weekend. Allen's looking good Rockin' & Roastin', don't you think? (Their resort also serves up my coffee, if you recall.)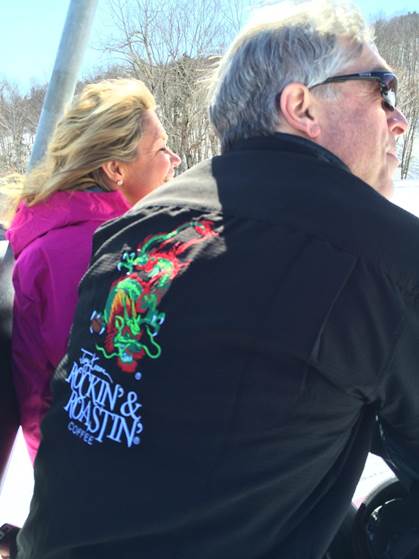 Rock On, Roast On.