Aerosmith's drummer opens coffeehouse, eatery and entertainment venue in Ski Country with famed businessman, Les Otten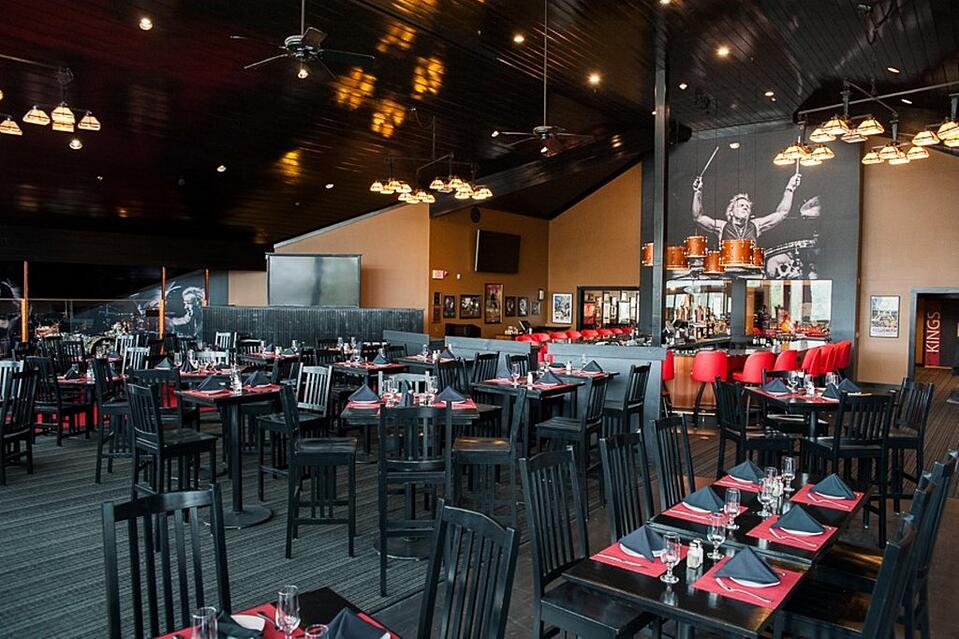 NEWRY, ME (January 6, 2016) – Aerosmith drummer Joey Kramer now is Rockin' & Roastin' at Sunday River. Last week, Kramer opened Rockin' & Roastin' Café & Restaurant – At the Mountain with business executive, Les Otten, former owner of Sunday River Ski Resort. Rockin' & Roastin' Café & Restaurant is a family-friendly coffeehouse, eatery and live entertainment venue located at the foot of the South Ridge Lodge that boasts panoramic views of the Sunday River Mountain. The namesake is a nod to Kramer's 100% organic certified coffee company, Rockin' & Roastin'.
The second level full-service dining room has an expansive rotating menu that dishes out fare fit for the whole family with locally sourced ingredients, a series of daily specials and gluten-free options. The dining room also is home to unique memorabilia from rock & roll history – including Kramer's drum kit from the recent Aerosmith "Global Warming Tour" – and is equipped with a state-of-the-art sound system and performance stage where musical acts and more entertain the rock faithful and ski bunnies alike. The menu categories and select items are plays on Aerosmith classics, further tying into this house of rock 'n roll.
For "Opening Act" appetizer options, highlights include Pig Wings tossed in Rockin' & Roastin' espresso-infused BBQ sauce finished with Sriracha ketchup ($9), Warmed Goat Cheese & Portabello Bruschetta with diced tomatoes, garlic and basil stuffed in a portabella mushroom cap topped with goat cheese ($9) and "Fly Away From Here" Chicken Wings finished in a choice of buffalo, teriyaki or BBQ sauce and served with celery, carrot sticks and bleu cheese dressing ($12). For "Avant Garden" salad options, there is the "Living on the Wedge" Iceberg Salad with gorgonzola vinaigrette, grape tomatoes, red onion and chopped brown sugar-Dijon roasted bacon ($12) and Farmer's Salad with harvest greens, ripe tomato, red onion, cucumbers and shredded carrots ($7/10).
For an Italian twist, "Eat the Rich" pasta selections are available traditional or gluten-free and include Wild Fire Pasta with sautéed gulf shrimp, chicken, spicy andouille sausage and fresh cavatappi pasta tossed in a jalapeño-cream sauce ($22) and Grilled Scallop or Shrimp Scampi tossed with garlic, mushrooms and linguini finished with butter and parsley ($20). "The Big Ten Inch" pizza choices include a Buffalo Chicken Pizza with onions and bleu cheese ($14) and Veggie Pizza with peppers, tomatoes, onions and mushrooms ($13).
"Amazing" sandwiches come complete with fries or chips and a pickle, such as the Grilled Cheese Rockin' Style with slow cooked pork shoulder, oven roasted tomatoes and aged smoked gouda served on Texas toast with an apricot-caper puree ($13), Avocado BLT with lettuce, tomatoes, hickory smoked bacon and mayo on a challah roll ($16; add lobster - $6) and the Sriracha-Infused Meatloaf Sandwich with caramelized onions on Texas toast, finished with Sriracha ketchup ($13). "The Farm" burgers are served on a brioche roll with lettuce, tomato, onion, a pickle and fries and include the Fire in the Hole with ground chorizo and beef topped with pepper jack cheese, jalapeños and spicy ghost pepper mayo ($13), Lamb & Bacon Burger topped with feta cheese and tzatziki sauce ($14) and the Black & Bleu Burger, the signature house Angus burger topped with pork belly and bleu cheese ($13).
Entrees, known as "Headliners," are served up with the choice of mashed red bliss potatoes or rice pilaf along with the vegetable of the day. Standouts are the Center Cut Pork Chop, 12 ounces topped with apricot-cranberry chutney ($20), the fall-off-the-bone Slow Roasted Dry Rubbed Baby Back Ribs ($18) and Grilled Salmon topped with lemon-caper aioli ($26).
For some "Sweet Emotions," dessert selections are the Chocolate Bread Pudding "Luv XXX" ($7), "Simoriah" S'mores ($10) and a traditional New York Cheese Cake ($7).
Downstairs, there is a casual café concept where baristas prepare a variety of coffee drinks using the traditional Rockin' & Roastin' organic brews (Guatemala, Ethiopia, Sumatra), a signature espresso, an all-natural Swiss water-based decaffeinated version, organic flavored coffees and cappuccinos. Rockin' & Roastin' Café & Restaurant also just debuted a Bona Fide® Craft Draft cold coffee brewed in kegs with a highly specialized process and available on tap. For those looking to snack, fresh goods are offered including coffee cakes, Danishes, pastries and muffins that are baked in-house as well as gourmet sandwiches.
The Rockin' & Roastin' Café & Restaurant – At the Mountain is located at 9 Timberline Drive in Newry, ME. For more information, please call (207) 824-2222 or visit www.rockinandroastinrestaurant.com.